Visit our warehouse facility in the northeast Bronx. We are conveniently located two blocks west of Interstate 95. Our professional warehouse crew and four loading bays allow rapid service to customers picking up their orders at our facility.
Get Directions to Movers Supply House, Inc.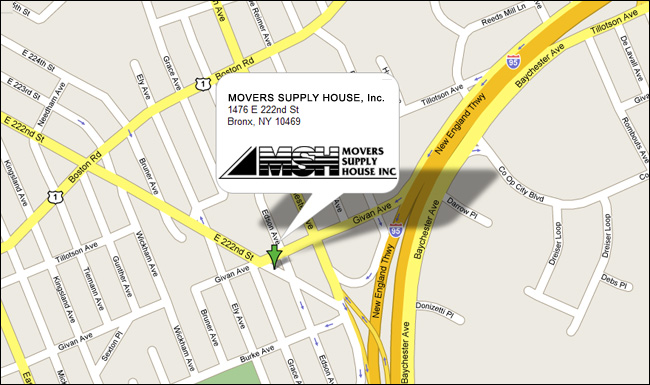 Get Directions to Movers Supply House, Inc.
We Accept



For Your Convenience
1. Unused stock goods returned will be accepted for exchange or credit at the discretion of MSH. Unless otherwise noted.
2. Any goods special ordered, shall be considered final sale, no exceptions!
3. Sales taxes will be collected on all pick ups and deliveries within the states of Connecticut, Maryland, New York, Massachussets, New Jersey, and Rhode Island, unless MSH holds a valid resale or exemption certificate from the customer.
4. Delivery via our truck on orders in excess of $1,000, will be made in our standard delivery areas, unless otherwise noted in the catalog. These are: lower New York State, Connecticut, Rhode Island, Massachusetts, New Jersey, and Eastern Pennsylvania. MSH currently charges a $25.00 fuel surcharge on all orders shipping from Bronx, NY on our truck.
5. Orders less than $1,000, within our delivery area, will ship either FedEx Ground, or with a delivery charge of $39.00. Orders less than $1,000, within Manhattan, will ship either FedEx Ground or with a delivery charge of $79.00.
6. Payment terms are cash, Visa/Mastercard, AMEX, Discover or commercial check at time of delivery unless credit arrangements have been previously negotiated.
7. Payment for goods sold on open account is due within 30 days of sale. If you wish to use a credit card to pay the account, a 4% surcharge will be added to the payment to cover the credit card fee. An 18% service charge will be levied on all accounts outstanding beyond 30 days. Payment terms will be strictly enforced.
8. Although we strive to keep all of our customers advised of changes in price, we cannot absorb manufacturers price increases which are beyond our control. For this reason our invoices will be billed with price in effect at time of delivery.
9. All listed shipping weights and product weights are approximate.
10. Office and warehouse hours are 8:00 AM to 5:00 PM Eastern time, Monday through Friday.
OUR RECOMMENDATIONS FOR EQUIPPING YOUR VANS AND TRAILERS
26 - FOOT MOVING VAN
9 - Dozen full size 72" x 80" furniture pads
10 - 12 foot logistic belts with spring ends
4 - 16 foot logistic belts with spring ends
2 - 20 foot logistic belts with spring ends
10 - Dozen rubber bands
1 - Rubber band rack
1 - 12 foot Walkboard
4 – Carpeted 4 wheel furniture dollies
1 – Appliance hand truck
1 – Pair Dolly Uprights
6 – Hump straps
1 – 6 foot dual step ladder
2 – 100 foot rolls of blue line tie webbing
1 – Piano board with track
1 – Sofa cover
2 – Chair covers
2 – Washer/Dryer covers
3 – Floor runners
12 – "S" hook rubber tension ties
2 – Wheel chocks
1 – Set of three Highway Safety Reflectors
1 – First Aid Kit
1 – Fire Extinguisher
6 – Padlocks
53 - FOOT ELECTRONIC TRAILER
18 - Dozen full size 72" x 80" furniture pads
20 – 12 foot logistic belts with spring ends
10 – 16 foot logistic belts with spring ends
4 – 20 foot logistic belts with spring ends
1 – 4 pc Auto Tie Down Kit
20 – Aluminum shoring beams
20 – Dozen rubber bands
1 – Rubber band rack
1 – 14 or 16 foot split walkboard
4 - Carpeted 4 wheel furniture dollies
2 – Rubber capped 4 wheel furniture dolly
1 – Appliance hand truck
6 – Hump straps
1 – 6 foot dual step ladder
1 – Piano board with track
3 – 100 foot rolls of blue line tie webbing
2 – Sofa covers
3 – Chair covers
2 - Washer/Dryer covers
6 – Floor runners
18 – "S" hook rubber tension lines
2 – Wheel chocks
1 – Set of three Highway Safety Reflectors
12 – Padlocks